TEMPORARILY CLOSED
Enormous outdoor playgrounds and attractions for children of all ages! Several swimming pools, water slides, inflatable attractions, a VIP jacuzzi area, a restaurant, and bars to have a great time together with your family.
Amazing facilities for the whole family.
The best entertainment center on the North Coast of the Dominican Republic!
Monday -  Sunday
10 am - 6 pm
About us
Welcome to Laguna SOV, the most complete family park at the North Coast, full of attractions for kids of all ages and their parents.
Your kids will love a big outdoor and indoor playground with a wide variety of attractions consisting of:
Open-air aqua zone,

Mini boats for kids at the Rancho swimming pool,

Inflatable attractions,

Swimming pools with comfortable sunbeds,

Water slides for kids and adults,

VIP zone with jacuzzis.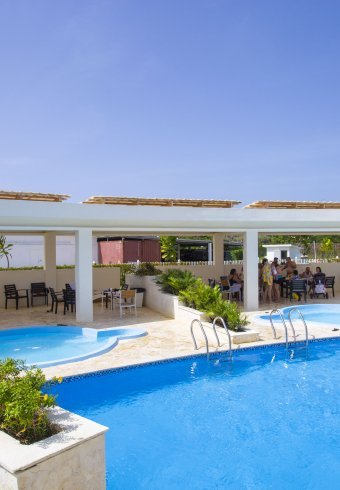 Embrace the perfect family day out at our Laguna SOV Family Center, where a delightful dining experience awaits you. While your kids revel in a world of fun, treat yourself to a delicious lunch or dinner.
Additionally, indulge in the vibrant flavors of our cocktails, expertly prepared to complement your dining experience. For those seeking a unique touch, savor the distinct taste of our exclusive craft beer, El Dueño. At Laguna SOV, we believe in creating moments of joy for the whole family, combining delectable cuisine with an array of beverage options for a truly memorable visit.
Monday - Sunday
10 am - 6 pm
Laguna SOV, Sosua Ocean Village, Highway Sosúa-Cabarete, km.2,
Sosúа, Puerto Plata, Dominican Republic